Tottenham manager Mauricio Pochettino says striker Harry Kane is "an easy target" after questions about the World Cup Golden Boot winner's form.
Kane, 25, has scored twice for Spurs this season but has now gone four games without a goal for club and country.
"Harry is a target. It's easy, when he doesn't score, to start to talk about him," said Pochettino, before Spurs' Champions League opener at Inter Milan.
"He's in front. If the team lose and we don't score, it's easy to blame him."
Pochettino added: "When you see in the last four years what he provides the team, it's too difficult to complain because he's not scoring goals."
Spurs have lost consecutive league games, a 2-1 home loss to Liverpool on Saturday following defeat by Watford by the same scoreline.
Kane has not scored since a 3-0 win over Manchester United on 27 August and also failed to find the net in England's two matches during the international break.
"Of course he needs to improve, but the team needs to improve," added Pochettino.
"It's easy to blame Harry. It's easy to analyse, to talk – it's always about the perception and the reality. For us, the perception versus the reality are too far away.
"My challenge is to be better every day. Fans, every single person, every single team-mate of Harry needs to say thank you."
Tottenham had 12 players at the World Cup in Russia in the summer, including nine involved at the semi-final stage. But Pochettino denied tiredness was to blame for the club's results.
"I'm not concerned. The reason is not tired or not tired, run or can't run, rest or no rest," he said.
"The moment of the team is not the best, it's a collective problem, not only one player. Different reasons why we're not winning the last few games."
'Champions League experience is like a cow'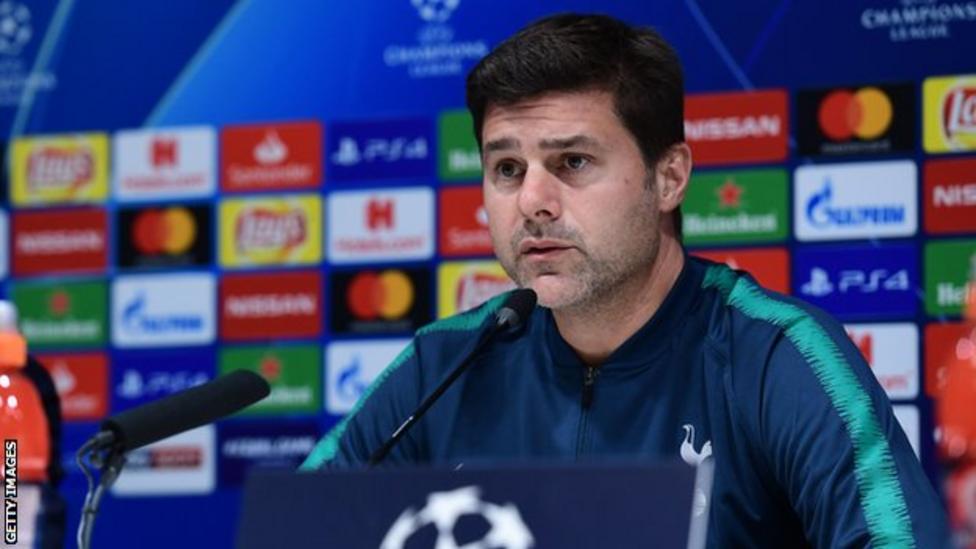 Spurs begin their 2018-19 Champions League campaign at Inter Milan's San Siro on Tuesday evening (kick-off 17:55 BST).
Pochettino surprised journalists at a media conference with an unusual analogy when asked whether he was feeling confident heading into the European campaign.
"Experience is experience but you need to apply it, plus the hunger, plus the motivation, plus being clever. If you are not clever it is not going to help you in the future," he said.
"It is like a cow that for every single day for 10 years sees the train cross at the same time and if you ask the cow what time the train is going to come, he is not going to have the right answer.
"Football is the same – motivation, circumstance, many things in football are so important. If you show the same hunger, same motivation, if you fight in the right way, there are many things that can keep you in the same way as the experience."
Asked whether he believes Tottenham are contenders to win this season's Champions League, the Argentine said his team must significantly improve on recent performances to stand any chance.
"I don't think we're realistic contenders in any single competition," added Pochettino.
"That is my view if we show the same face we did against Watford and Liverpool, so difficult. If we show the face from some bits of Old Trafford, then maybe yes."